11 Mountaineering Movies You Shouldn't Fail to Watch

Inspiring and true to life mountain climbing stories
For many people, reading and watching other people's first-hand accounts on their successful (or futile) attempts to scale a mountain is enough to spark their interest for adventure. A lot of mountaineering movies may be based on lethal stories, but this has definitely not stopped people from making the journey themselves. If you want to be inspired or to simply explore the drama behind the story.
Here are among the top mountaineering movies ever made you shouldn't fail to watch:

This film was loosely based on the journey that Jim Wickwire and Louis Reichardt to reach the summit of K2 back in 1978. In the movie, the two main characters almost did not make it to the 'top of the world'. Their celebration was short-lived as one of them slip during the descent and broke their leg badly. By a stroke of luck, his climbing partner was able to get temporary help and they made their way toward base camp a few dozen feet at a time. Both were later rescued by a Pakistani helicopter.
→ Equip yourself first with these functional traveling essentials!

This 1998 movie tackles all about the struggles of climbing the highest peak in the world, Mount Everest, which stands at 29,029 feet. The 45-minute documentary is narrated by actor Liam Neeson and started production during the 1996 Mount Everest disaster. Due to the popularity of the book Into Thin Air, which talked about the tragedy, the documentary decided to address the issue and thus included footages of the disastrous event. It has since become the highest grossing IMAX documentary ever released.
→ Set your heavy dose of fun and excitement with this lovely collection!
3. Touching the Void (2003)

This 2003 documentary was based on a book of the same name written by Joe Simpson. The climb was during their nearly fatal climb to Siula Grande in Peru back in 1985 where his climbing buddy, Simon Yates, had to cut off Simpson's rope seeing a very little recovery to their situation. Simpson's survival after his fall, which included crawling and hopping five miles around glaciers with no food and almost no water, is considered as one of the most awesome pieces of mountaineering lore.

North Face is a German historical film based on a famous attempt to summit the north face of the Eiger in the Alps. The movie focused on the 1936 attempt made by Toni Kurz and Andi Hinterstoisser along with a few other mountaineering buddies. The film focused more on the climbers' passion than the current political scene.
→ Be a free wanderer with these comfortable and stylish outfits!

The 2010 mountaineering drama which retells the story of Reinhold and Gunther Messner during their tragic expedition to Nanga Parbat in 1970 reignited the arguments among those involved. The mountain, located in Pakistan, is the ninth highest in the world and is considered to be among the most treacherous to climb.
→ With luxury and comfort, match your style with this collection!

This survival drama features the story of canyoneer Aron Ralston, whose arm got trapped by a boulder in Blue John Canyon in Utah back in April 2003. After days of being trapped, Ralston realized that there was no other way to get out of his situation but to amputate his arm in order to escape. The movie was well-received by critics and was even nominated for six Academy Awards.

This documentary footage, which was also mixed with a dramatic recreation of events, was based on the K2 disaster that happened back in 2008. During the catastrophe, 11 climbers died while making their way to and from the summit, making it among the most deadly disasters in climbing history. Many of the footages included were captured by Swedish mountaineer Frederik Strang.
8. Beyond the Edge (2013)

This 3D mountaineering docudrama was a recreation of the historical climb that Edmund Hillary and Tenzing Norgay made to Mount Everest in 1953. It also featured actual footage and photographs during that event, which was the ninth British expedition ever made to the mountain. There were also audio from interviews with Hillary as well as recorded narrations from the expedition leader John Hunt.
→ Carry a versatile and sturdy bag for more of your travel convenience!

Adventurer and filmmaker Jimmy Chin compiled his footage from a failed attempt to Meru in 2008 and a successful one in 2011, along with Conrad Anker and Renan Ozturk. According to Chin, the mountaineering film balances actual footage with dramatic narratives of the climbers facing their inner demons. The film won the US Audience Documentary Award at the Sundance Film Festival in 2015.
→ Style yourself with these accessories and seize your moment!
10. Beyond the Heights (2015)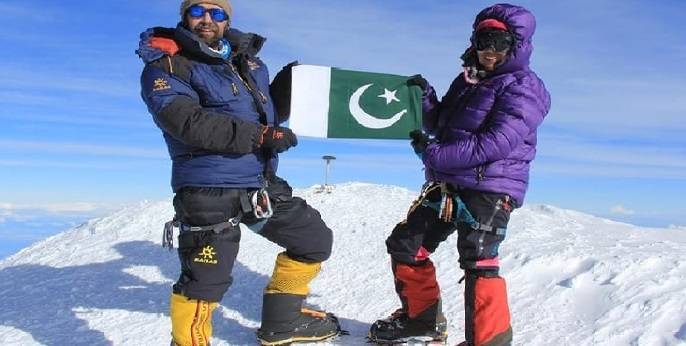 With a story showing a woman's struggle in accomplishing her dreams, Beyond the Heights is a Pakistani mountaineering film about Samina Baig. Baig, at 21, was the first Pakistani woman, third Pakistani and youngest Muslim woman to climb Everest. She was accompanied by her brother, Mirza Ali Baig, who also became the youngest Pakistani man to reach the top of Mount Everest at 29.
→ Pair your outfit with this exclusive and stylish collection!

Everest is yet another retelling of the tragic 1996 Mount Everest disaster, based on the memoir "Left for Dead: My Journey Home from Everest" written by Beck Weathers, who was one of the survivors. The mountaineering movie was generally received positively except for Jon Krakauer, who was also part of the ill-fated expedition.
→ Experience a memorable trip with these great bargains!
Experience the trip of a lifetime, but before you explore these majestic destinations, start planning your exciting trip with Trekeffect!
Share Your Travel Experiences With Us
We want to hear from you! What are your thoughts on the article? What did you find most interesting and do you have any of your own experiences you can you share with us to make this article even better? Let us know in the comments!
---
Back to Travel