How To Find The Best Anti Theft Backpack For Travel

I always carry a piece of my beloved belongings when I travel. From special hippie bracelets to my favorite novels, my travel bag is jam-packed with souvenirs and things that remind me of home as well as my thrilling travel adventures. In some way, it makes me a bit less homesick, as I explore foreign lands. Every time I look my favorite items, my heart is, soon after, filled with beautiful memories and joy. As I explore the world, I also carry travel essentials and important documents, such as electronics, money, IDs and passport. And, since everything I bring is important in my life, I often use an anti theft backpack on my urban escapes.
To me, anti theft backpacks are truly a godsend for travelers like me. Why? Like any traveler, safety is a primary concern when I'm on the road. Let's face it. Even the most experienced travelers, who have developed incredible safety instincts, can be pretty vulnerable to tricks and theft. And, trust me, theft is the absolute last thing you want to happen, when you're traveling. After all, theft, in an instant, puts a damper on your vacation and changes mercilessly the course of events. What seemed like a dream vacation could quickly turn into a disaster, once you realized someone stole your belongings. Although it's practically impossible to stay 100 percent safe in today's world, there are a few precautions to take when traveling overseas.
For years, I've been traveling across the world, and have heard countless theft-related horror travel stories. Heck, I've once lost about a thousand of dollars on a backpacking trip to Southeast Asia. After that unfortunate experience, I swore to make significant changes in the way I travel. So, I bought a high quality anti theft backpack. Since then, I haven't lost anything in my travels. And, there's the thing. There are plenty of other perks to using an anti theft backpack, besides adding an extra layer of security to your baggage. Of course, we're going to give you a rundown of the upsides of using this travel bag. As an added bonus, we'll help you select the best anti theft backpack for your next big adventure.
Should I get an anti theft backpack for my next trip?
We live in a world where you simply can't leave your phone or wallet on a restaurant table and expect that nobody's going to touch it. Today, you need to constantly be aware of what's happening around and keep an eye on your possessions at all times. That means traveling with a backpack on a foreign land can turn into a stressful and uneasy experience. Remember, we're humans, and we don't have eyes in our backs. And, in some destinations, thieves would prey on naïve tourists knowing that they are likely carrying a lot of valuables.
For instance, when you go for a little sightseeing trip, you'll need to bring a wad of cash, credit cards, passport, portable charger, smartphone and a camera. You're going to carry things that the average person wouldn't bring on a daily basis. And, once the thieves see someone as their target, they will soon do to these things to their victim:
• Pick-pocketing a travel bag that's easy to unzip without detection.
• With a sharp blade, they will slash through the bag's material, so the contents inside easily fall out of the bottom.
• Scanning credit cards or ID inside a travel bag that's unprotected.
• Cutting through the handbag's strap.
Quite frankly, your standard backpack can't protect you from these schemes. They are just no match to the quick and skillful hands of an expert pick-pocketer. I know backpacks are the traveler's first choice. They are comfortable when you carry heavy loads, and are convenient since they keep our hands free when sightseeing. On the low side, they lack some handy security features. Even though lady handbags are the thief's prime targets, backpacks can be quite an easy picking.
As far as I'm concerned, it's really hard to secure your things when you cannot see them at all times, specifically in the midst of a large crowd. Luckily for us, there are anti theft backpacks to help protect our belongings when we travel. As a matter of fact, it was specifically designed to prevent those attacks mentioned above. With its sophisticated features, an anti theft backpack prevents, or least delay, theft. Although there's no substitute for good situational awareness, these travel bags nevertheless can slow down those tricky thieves.  
And, as far as the aesthetics go, these travel bags don't look bad either. With bag manufacturers continuously upgrading their design, there are now tons of anti theft backpacks that look chic, sleek and stylish.
The benefits of using an anti theft backpack

Still not convinced? Here are a few more reasons why you should carry an anti theft backpack for your next trip.
• Slash-resistant materials. One of the most outstanding attributes of an anti theft backpack is the material it's made of. Normally, a quality anti theft bag is made of a durable slash-resistant, military-grade material, making it basically impossible for thieves to rip the bag open quickly with knives. The best slash-resistant are often reinforced with an ultra high molecular weight polyethylene (UHMWPE) material and other fibers that are woven tightly together using a high-speed knitting machine. The fabric outcome of this extraordinary process is, then, rated with a Level 5 – the highest cut rating. Of course, not all bag manufacturers use this kind of material. But, for the most part, they use other high quality and durable fabrics, such as Kevlar.
• Other security features. Not only are they made of durable materials, but they also come with a few more cool security features. For one, the best anti theft backpacks come with hidden pockets to secure your most important items. Furthermore, most of these travel bags have RFID blocking technology, to block tricksters from electronically stealing money from your cards.
• Anti theft backpacks are durable. Looking for a durable, multi-purpose travel bag? Why not invest in an anti theft backpack? Keep in mind that anti theft backpacks are made of durable and extremely resistant materials. Once you invest in this type of travel bag, you can rely on it and use it for a number of years to come.
• Easy access. Thanks to its innovative pockets and high-quality zippers, you can quickly and easily find all your belongings inside your backpack. Need to grab something from your bag? Guess what? You can do it in an instant with an anti theft backpack.
Best anti theft backpack features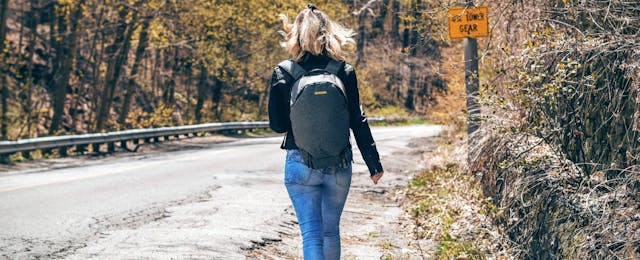 Planning on buying an anti theft backpack soon? Then, make sure to heed these tips and suggestions:
• RFID Blocking Pocket. These built-in travel bag pockets are designed to block savvy digital thieves who use RFID readers to steal ID, debit card or credit card information.
• Waist pockets and hidden shoulder. These bag pockets let you keep your valuables and items secure in front of you and against your body.
• Minimal outer pockets. You don't need a dozen of outer pockets for your anti theft backpack. Actually, some anti theft backpack manufacturers eliminate all outer pockets.
• Puncture resistant zippers. Seasoned thieves know to quickly poke through a bag zipper without you or any of your travel buddies noticing. The best anti theft backpacks have special and cool zippers that prevent poking.
• Kissing or interlocking zippers. A great anti theft backpack features zipper mechanisms that let you lock together your bag zippers without having a separate padlock. They call these mechanisms as interlocking zippers. "Kissing" zippers also work like these mechanisms. Kissing zippers have holes where you can pass a small padlock through, so you can lock the zippers together.
• External USB port. With an external USB port, you'll have the luxury to charge your mobile phone or any other USB device without having to open your bag. You need a power bag inside your anti theft backpack to make this work, though.
• Lockdown Shoulder Straps. These shoulder straps can be used to lock your anti theft backpack to a fixed object.
• Slash-proof materials. This feature was engineered to block pickpockets and thieves from cutting your backpack when you're not looking. The panels of the anti theft backpack have internal steel mesh.
• Hidden zippers. Need a safe place inside your backpack wherein you can find your valuables? I suggest that you look for an anti theft backpack with hidden zippers on its main compartment.
• A back panel hidden pocket. It's one of the basic and most features that every top-rated anti theft backpack has. With this pocket, you get to store your important stuff against your body as you go through the airport or use the public transport. Additionally, you'll have the absolute peace of mind. And, did I mention that it offers easy access to your documents and things?
How to find the best anti theft backpacks for your next trip

Can't find the best anti theft backpack for your trip? Just check out these suggestions, so you can find the ultimate anti theft bag for your next adventure!
• Pocket arrangement. Before you buy an anti theft backpack, make sure to check if it has enough space and compartments to keep your passport and other documents safe. Additionally, the best anti theft backpacks have their own special shockproof pockets for sensitive mobile devices, such as your laptop.
• Durability. Picking a durable backpack made of high quality materials is a must. Always check the label, and look for anti theft travel bag made of slash-proofing materials.
• Style, color and design. Style isn't exactly the first thing that comes into mind when you shop for the best anti theft backpacks. Even so, it's something that you should put into consideration. Even if you have no aspirations of becoming a brand ambassador or model, you should still look anti theft backpack colors and design that match perfectly to your style. You're going to spend some money on it, so you might as well as buy something that looks good on you.
• Size. Clearly, you need a backpack with enough size and space to fit all your things for your trip.
Safety features. Not all anti theft backpacks are created equal. Sure, most of them are made of slash-resistant materials, but some of them don't have extra security features. In my book, the best anti theft backpacks have an extra set of safety features, such as hidden pockets, puncture resistant zippers and an RFID blocking technology.
• Features. The best anti theft backpacks have some extra cool features that will make your trip even more convenient and hassle-free. Some have an USB port that allows you to connect your smartphone or tablet to a power bank inside. Others also come with special and small pockets where you can keep your medicines or liquids cool.
Planning to travel with your anti-theft bag? Then make your travel planning experience painless and hassle-free with Trekeffect!
Share Your Travel Experiences With Us
We want to hear from you! What are your thoughts on the article? What did you find most interesting and do you have any of your own experiences you can you share with us to make this article even better? Let us know in the comments!
Most Popular Ecruvé Articles